You're never too young to create your estate plan
You're never too young to create your estate plan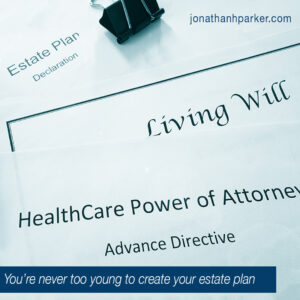 Your future is just around the corner. That means you're never too young to create an estate plan to be prepared for whatever the future holds for you. There are many articles about starting your retirement savings accounts — IRAs, 401ks — as early as possible so you have options. Retirement is hard to put ahead of today's needs.
If you're part of Gen X, you might have a young family to raise, support, and educate, all while still paying your own student loans.
If you're a Millennial or Gen Y, you may be dealing with student loans, trying to buy your first home or find an affordable rental, as well as balancing making a living with having a fulfilling career.
All that said, you still should think about having your legal ducks in a row to cover more than just a will, as well as other documents that you and family need while you're alive. This ongoing pandemic has taught us that no one is immune to possible and sudden life changes. It's never too early to plan your estate!
In addition to a will, here are several documents you should have as part of your estate plan:
Living Will
Imagine if you are unfortunate to be very ill and can't express what medical care you want. That is exactly what's happening to many people who have been stricken with Covid, have been ventilated and unable to speak or are even unconscious. This is when a Living Will, which you would have created when you're able to express yourself, allows you to outline what medical care you'd want in such situations, and even at the end of your life. It takes the burden off your loved one and ensures your wishes are met.
Health Proxy
A Health Proxy supplements a Living will. This document specifies a person who has the legal right to speak for you regarding medical treatment if you are unable to do it for yourself. Many parents don't realize they don't have automatic rights to get private medical information for their adult children (over the age of 18) nor make decisions for them. This document gives them rights when created by their children.
Financial Power of Attorney (POA)
Bills need to be paid whether you are able to do so for yourself or not. A Financial Power of Attorney (POA) gives the person you designate the authority to manage your affairs within the confines of your pre-stated restrictions, thereby helping safeguard your assets.
We do this all the time!
Our job is to counsel our clients, help them navigate an estate plan, create and execute the necessary legal documents. We represent clients in Florida, New Jersey, and Hawaii. Call now 877.727.5379 to schedule a free initial consultation with our experienced estate planning and probate attorneys by phone or Zoom.